Biography
Edit
Jensen Ackles was born in Dallas, Texas, to Roger Alan Ackles and Donna Joan Ackles (née Shaffer). After modeling as a young child, he began to concentrate on a acting career in 1996 upon his graduation from Lloyd V. Berkner High School in Richardson, Texas. In 1997, he received a role on the NBC soap opera "Days of Our Lives" (1965) as Eric Brady, for which he won a 1998 Soap Opera Digest Award for Best Male Newcomer.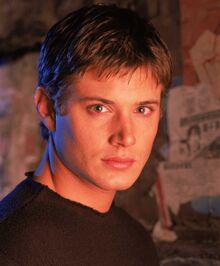 After leaving "Days of Our Lives" (1965) in 2000, Ackles went to Vancouver, joining the cast of the James Cameron television series "Dark Angel" (2000). His first appearance on the show was in 2001 as Max Guevara's disturbed brother Ben. After Ben died, Ackles returned to the series in the second season as Ben's clone, Alec McDowell, who eventually teamed up with Max and stayed until the show's demise in 2002. Ackles was offered the role of Alec because the producers were impressed with his performance as Ben, though the role was not written specifically for him and would have gone to another actor if Ackles had been unavailable or uninterested, in which case Alec would not have been Ben's twin.
In 2003, he made several guest appearances as C.J. on the hit WB Network show, "Dawson's Creek" (1998). In 2004, Ackles returned to Vancouver and became a regular on the popular WB Network series "Smallville" (2001), which revolves around the life of the teen aged Clark Kent/Superman. His character, Jason Teague, was an assistant coach for the high school football team and a love interest of Clark Kent's ex-girlfriend, Lana Lang, played by Kristin Kreuk.
Ackles returned to television in 2005 in the new WB horror series "Supernatural" (2005+) in the role of Dean Winchester, who teams with his brother Sam (Jared Padalecki) to road-trip across the country investigating the paranormal. "Supernatural" ended up spanning more than 10 seasons, becoming extremely successful in multiple countries and not just the United States.
Appearances
Edit
External links
Edit